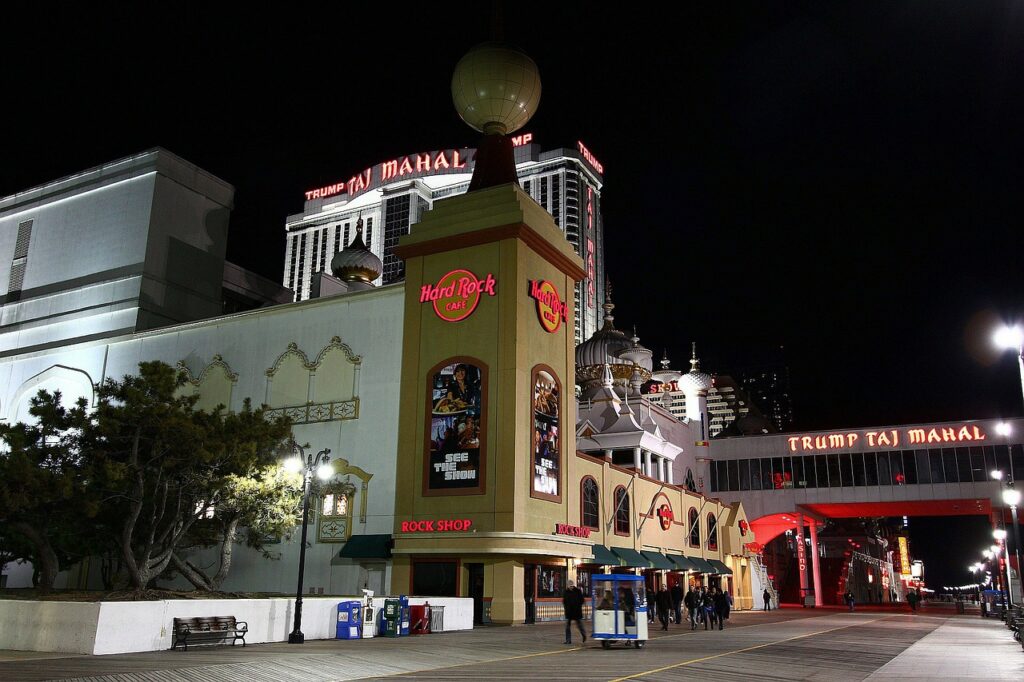 Atlantic City welcomes 27 million visitors a year who are mostly there to gamble.
Whether you want to take your chance on the roulette wheel or have an intense game of Blackjack, there are excellent casinos to test your luck. Perhaps you're planning a weekend to enjoy Atlantic City casinos but you're not sure which ones are the best.
Sounds like you? Great, then you've come to the right place. Here's everything you need to know.
Best Atlantic City Casinos
When you're gambling in Atlantic City, you want an unforgettable experience. Luckily, many casinos offer their patrons an exciting, memorable time. Check out these places, for example:
Borgata Hotel Casino and Spa
Arguably one of the best Atlantic City casinos is Borgata located in the marina district. The second you enter, you're greeted by a marble lobby and lavish glass sculptures, the perfect atmosphere to win big.
Borgata boasts 180 table games, 4,000 slots, and their famous Poker Room, the largest in the city. Aside from that, Borgata offers luxurious accommodation and fine dining options like the beloved Old Homestead Steak House. There's also mur.mur and Mixx, both fantastic nightclubs, where talent the likes of Britney Spears have performed.
Ocean Resort Casino
Not sure where to gamble in Atlantic City?
Check out Ocean Resort Casino near the boardwalk. Here, you'll find 2,000 slot machines, 125 table games, and the William Hill Sports Book which is why it's famous. Patrons love it because of the 45 foot LED screens and awesome atmosphere.
Hard Rock Hotel and Casino
One of the most famous casinos in Atlantic City is Hard Rock. Formally the Trump Taj Mahal, the Hard Rock is the city's newest casino and they've done a great job at renovating it thanks to the modern decor and music memorabilia.
The casino is modern, has a wide range of machines, and there are 120 table games to enjoy. Further, Hard Rock has a sportsbook with 50 TVs, a bar, and seats so plenty of patrons can spend the night betting on their favorite sports. If you need tips, check out this helpful guide before hitting the casino.
Harrah's Resort Atlantic City
Harrah's Resort is famous because of the extravagant hotel and casinos they offer. Once you arrive, you'll notice the establishment has a Vegas vibe and although the casino is smaller than other options, there's a wide range of slot machines including the classics.
And when you're here, check out the Keno parlor which hosts games with payouts of a staggering $250,000.
Tropicana Casino and Resort
Head to the cavernous Tropicana on the boardwalk where you spend an evening playing big at that lavish casino. Aside from that, Tropicana is one of the most family-friendly casinos in Atlantic City as it offers a Family Fun Station, an IMAX theater, and a light show in the evening.
The casino is packed with table games, slots, and a poker room where patrons can sip on free drinks. There's also a wide range of eateries and one of the most popular options is Cuba Libra that offers a tasty, tapas menu.
Golden Nugget Atlantic City Hotel, Casino & Marina
If you're after a laid-back vibe, visit Golden Nugget as it's low-key and caters to older patrons. Although the casino is one of the smallest in the city, you're spoiled to a variety of slots and video poker machines that are looser than most.
You can play poker but the Golden Nugget doesn't have a sportsbook in the casino, though there is an online option. Their casino also offers fair comps and a rewards card that you can also use in their Las Vegas branch.
And if you get peckish, head to their famous steakhouse or seafood restaurant while enjoying a stunning view of the water.
Worst Casinos in Atlantic City
No city has it all which is why there are casinos that you should avoid. Although opinions are subjective, these casinos consistently get negative reviews. For instance:
Resorts Casino Hotel
Compared to other casinos in Atlantic City, Resorts looks outdated and when you enter, you'll find it's cramped and smoky. The comps aren't worth the hassle, there's no poker room, but they have Draft Kings Sportsbook which is famous in the city so only visit if that's what you're interested in.
Bally's Hotel and Casino
Bally's rates poorly because of their generic poker room, sportsbook, and old slot machines. Again, the comps aren't great and the atmosphere isn't as bustling as other casinos in the city. A redeeming factor, though, is The Book, Bally's brand new sportsbook.
Caesars
Although it's the go-to casino in Vegas, Caeser flops in Atlantic City. The casino is outdated and they've downsized so there aren't many table games and there's no sportsbook or poker room. Further, most of the slot machines are either old or out of order so it's best to go somewhere else.
But Ceaser's redeeming factor is the Continental and Gordon Ramsay Pub, both offering an array of delicious dishes.
That's Everything to Know About Atlantic City Casinos
We hope you now have a clear idea of what Atlantic City casinos have to offer and which to avoid.
As the city is renowned for its casinos, patrons are spoiled to an array of fantastic establishments whether they want to play poker or spend an evening in the sportsbook. A major bonus is many of these casinos have a great atmosphere and premium eateries so you and your loved ones have an unforgettable time. Have fun!
Did you find this article helpful? If so, check out our posts on everything from Gambling to Business.