When Essex boy Stuart Bingham won the snooker world title for the first time in his career at Sheffield's Crucible Theatre last May – it was a hugely welcome surprise to all those involved in the sport.
Before the tournament really got under way in earnest, the end result seemed a foregone conclusion. "The Rocket" Ronnie O'Sullivan would surely win his sixth world title – and the bookmakers' and exchanges' odds thoroughly reflected this. O'Sullivan was one of the shortest priced favourites in recent history. Of course, things turned out rather differently.
Stuart Bingham, on the other hand, was a relative outsider with the bookmakers – both before and during the tournament, with odds exceeding 50-1 on the exchanges. But he just kept winning. It seems bettors are a little wiser now, however, as the likeable Essex man is a more realistic 17-1 for this year's Snooker Masters tournament.
The Rocket went down in the quarter-final to a spirited fight from the eventual overall victor Bingham. The five-time winner, O'Sullivan, lost 13-9 overall in a defeat that stunned the snooker world. O'Sullivan had managed to reach the final for the previous three years in succession, but was unable to cope with Bingham's superb display.
In the semi-final, Bingham faced fellow Englishman Judd Trump, who was widely expected to defeat the Essex man. And it could not have been much closer. But Bingham eventually edged this absolute thriller – winning 17-16 after an incredibly tense final frame decider.
Even for the final itself, Shaun Murphy was quite a warm favourite, but Bingham had the kind of self-belief and calm at the table that he seems to lose the moment he steps off it.
This is a unique character. Seemingly calm and unassuming, Stuart Bingham is, in fact, full of likeable emotions. But when he's at the table, he's seemingly the most placid and focussed guy out there. Yet he also manages to exude a like-ability that you don't always see in professionals right at the top of their game as he clearly was in April-May this year.
It was only when Bingham was interviewed after his nail-biting semi-final victory that had gone right down to the last frame that we saw what a really nice and emotional guy this is. Bingham was mentally exhausted after the long encounter and had to fight back the tears as he was interviewed immediately after this arduous match.
Shaun Murphy, meanwhile, had enjoyed a far more convincing and shorter semi-final win over Barry Hawkins by 17-9 to reach his third final. The 2005 tournament winner reckoned he was playing his best ever snooker, so it was assumed that his relatively rested state would further help his cause in the final, and the odds reflected this.
But as we now know, Bingham had other ideas. He went on to beat Murphy by 18 frames to 15 in what was one of the most gripping finals seen at the Crucible for many years to win his inaugural World Championship title. Yet there can be few people connected with snooker that don't hope he'll add to his tally. And this is down to the personality of the man we could call "Mr Nice".
Bingham had begun the last session of the final with a 14-11 lead, but Murphy showed what he was made of and gradually levelled the score at 15 all. The next frame, however, was the Crucible's crucial one and it was one that the 38-year-old Bingham, from Basildon, won. And it was an epic lasting over an hour.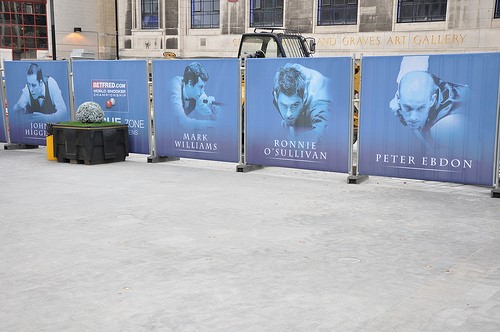 You could have heard a pin drop in the Crucible – so tense and gripping was this pivotal 31st frame. Bingham then put together a break of 65 in the following frame to take a 17-15 lead, before sealing the overall title with a wonderful break of 88. And he seemed tremendously calm and confident as he did so but he was clearly holding back a huge wall of emotion as he became the oldest player to win the world title since Ray Reardon won it aged 45 back in 1978.
Bingham picked up a winner's prize of £300k and immediately rose from 10th to 2nd in the snooker world rankings as a result.
After the tournament was over, Bingham bought the table that the final had been played on for £6,500. He reckons he's a collector of snooker memorabilia and there can be few artefacts from the great game of snooker that would mean more to this likeable Essex boy.
Stuart married his wife Michelle (née Shabi) in May 2013 in Cyprus. He and Michelle have a son, Shae, who was born in 2011 and Bingham also has a stepdaughter. There can have been no more heart-warming sights in the history of World Championship snooker than seeing Stuart greeted by his family after his most unexpectedly welcome win.